Products
The Ekovilla product family includes thermal insulations (blown wool, insulation slab, strips), air barrier products and asphalt fiber. Our thermal insulation products can be used both in new buildings and renovation projects as well as for additional insulation.
Check the price and amount of both blown wool and wool slab for your project from our dealers or ask for a quote here. The installation of thermal insulation is easy for anyone with the right tools, but in Finland our professional installation team is also at your service.
Ekovilla slab
for attic floors, ground floors and walls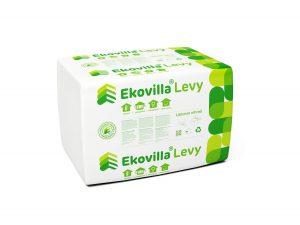 Made of recycled wood fiber just like our blown wool, the Ekovilla slab is a soft and resilient thermal insulation slab with all the excellent properties of Ekovilla. The Ekovilla slab is a carbon neutral product and as insulation, it saves energy.
This slab, designed to the builders' wishes, offers all the excellent properties of Ekovilla:
Wood fiber insulation from renewable resources
Carbon neutral
Good thermal insulation capacity
Breathable and safe
Easy to install
Suitable for both new buildings and renovation
Ekovilla Loose Blown Wool
for ceilings, base floor and walls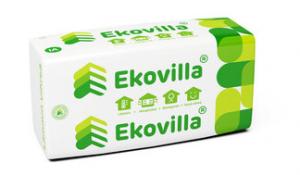 Thermal insulation of ceilings and floors is quick with Ekovilla blow-in loose fill insulation.
An authorised Ekovilla service representative brings along the required insulation and installation tools, and completes the insulation professionally. The insulation fills even the smallest cavities and forms a solid and effective insulation jacket.
Check the other qualities of the Blown wool here.
Ekovilla hermetic products
Air-tight home is comfortable and safe to live in. Additionally air-tight means energy-efficiency and durable.
We at Ekovilla have found it important to guide builders in making properly air-tight houses – well made air and vapour barries don't mean the house does not breathe! To come up with a solution we have developed practical barrier paper and tape -products as a solution.
Read more about the hermetic products and Ekovilla – X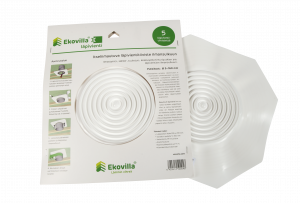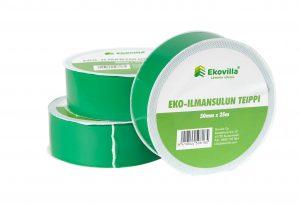 Ekovilla Asphalt fibre
Stone mastic asphalt (SMA) is a popular road surface material for European roads with heavy traffic and is perfect for the demanding weather conditions in Finland. The advantages of SMA include wear resistance (studded tire resistance), deformity resistance (heat resistance) and water resistance.
Read more about our Asphalt fibre