Blown wool
for attic floors, ground floors and walls
Ekovilla is a carbon neutral blown wool. It is Finland's favourite insulation for single family dwellings, but is also widely used in professional construction. Our blown wool is mainly made from plain newspaper and it has been used for insulating the homes of our customers for over forty years.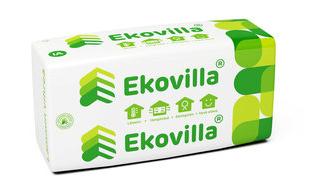 Watch video material for installations

Blowing wool installation

Installation to attic floor:

Installation to walls:

Self-installation with the blowing machine:

Self installation guide

Ekovilla Self installation

When well done planned and prepared for, self installation is well made and easy.

You need to rent out a small installation blowing machine and calculate the amount of material needed. Our trusted hardware stores can guide you throughout the country.

Ekovilla is packed tight, taking only fifth of a space in the package that it will when blown to the wall. You won't be needing a truck, a trailer is enough to transport the materials to your home.

Ekovilla is also inexpensive.

For example, blowing 20cm additional insulation to a 100m² attic ceiling will take about 2-3 hours and the insulation quickly pays itself back with decrease in heating bills and improved indoor comfort.

If you are working on a smaller project, you may also do additional insulation without machine with Ekovilla Puru. This bulk material can be hand installed direcly to the needed location. Bear in mind, that Puru will not suffice as an option for e.g the whole wall space but serves as an addition for smaller spaces.